It's been a whirlwind few weeks keeping up with all the new big name Callaway Staff Pros, and we figure why stop now? This week, we're proud to announce that 16-year-old phenom Lydia Ko (@Lko424) and five-time major winner Yani Tseng (@YaniTseng) are two of our newest members on #TeamCallaway!
Lydia is arguably the most decorated young talent of all-time in women's golf, with the numbers to back it up. She's a former world No. 1 amateur, the youngest winner in LPGA history (at 15-years-old), earned two Tour victories before turning pro, and won a professional tournament in December with a new X2 Hot Pro Driver in her bag. This year, she'll play a full complement of Callaway and Odyssey products.
"Lydia is an exceptional talent and a great addition to our staff," said Nick Raffaele, VP, Sports Marketing for Callaway. "Last year we had several Pros win after successfully transitioning into our products and we're excited to see what Lydia can accomplish on the LPGA with the world's best clubs, balls and putter in the bag."
Our SVP of Marketing, @HarryArnettCG voiced his excitement as well, particularly regarding Lyda's engagement with golf fans. "(She) is digitally connected with golf enthusiasts around the world," Harry said. "Her meaningful participation in the fast, interconnected network of golf makes her an exciting fit."
During her visit to our HQ office in Carlsbad, Lydia was nice enough to sit down for a new episode of Callaway Talks. It's obvious that she's got the game, maturity and support group to become one of golf's biggest stars, maybe even World No. 1, in the near future. Welcome to the team!
Tseng Shows Off New Callaway Bag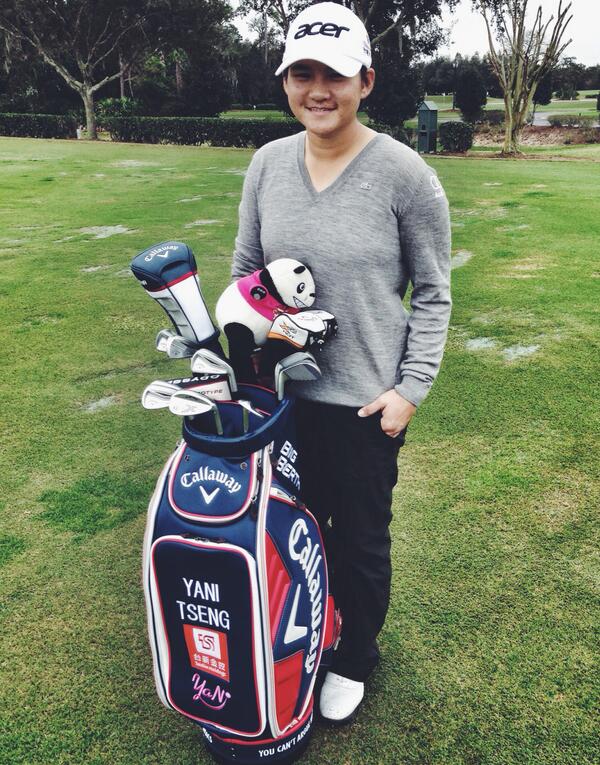 Yani Tseng is the youngest player, male or female, to win five major championships and she's spent 109 weeks of her career as the No. 1 ranked player in the world.
With 15 career LPGA Tour wins to her name and an appearance on TIME Magazine's "100 Most Influential People in the World" list in 2012, she's one of the most recognizable players in the Tour's history.
Yani tweeted out a picture of her with her new Big Bertha Staff Bag right after we introduced her on our Callaway Twitter page. According to our Tour Reps, her current bag includes a Big Bertha Driver, Big Bertha 3-wood, an X2 Hot 3-Hybrid, X2 Hot Pro 23° Hybrid, Apex Pro Irons and an Odyssey Putter. Boom!
It's incredible to have these two great players on our roster, and we know they'll both do incredible things on and off the course this year! For more on all our staffers, please visit our #TeamCallaway page.